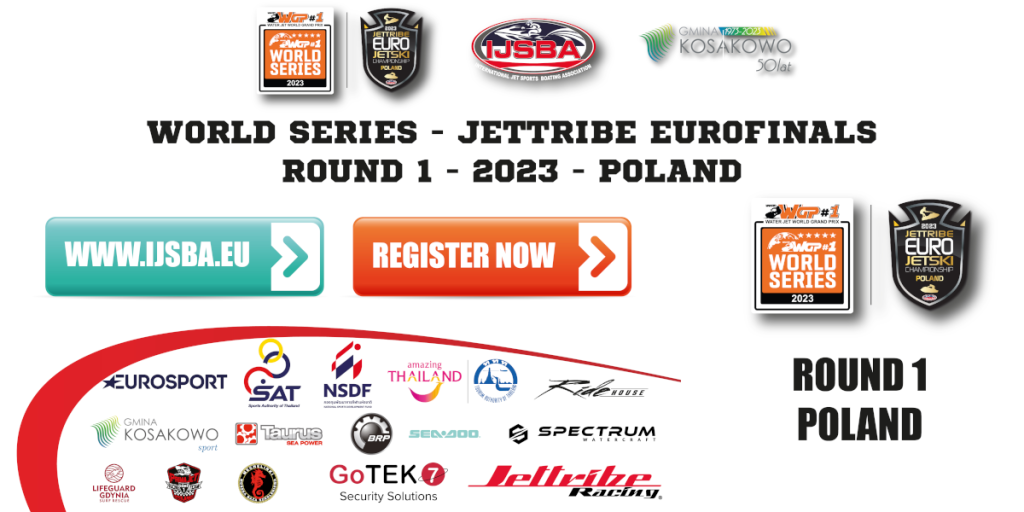 And we're off ….
Register your race number(s) for the 2023 sensational Jettribe Eurofinals / World Series Round 1 by using this registration form.
Pre-registration closes on the 7th of May 2023 for the following racing classes.
PRO Ski GRAND PRIX
PRO Sport GP
PRO Ski Woman GRAND PRIX
PRO Runabout GRAND PRIX
PRO-AM Endurance OPEN
PRO Runabout 1100
After this date, pilots can still register in advance till 15th of May 2023. An extra fee of 100,00 € will be charged however on top of the regular inscription fee for registrations made from 8th of May 2023 till 15th of May 2023. After this date, it will no longer be possible to register in advance.
For all other racing classes you will be charged an extra fee of 50,00 € in addition to the regular inscription fee for any pre-registration made after the 7th of May 2023.
Extra important remark! Choose your race number very carefully. As from this year, we will NOT allow any modifications to race numbers anymore after registration! It's your responsibility to provide enough decals (of the correct size and colours) to fit spare or rented ski's or runabouts.
If the race number on your ski or runabout is not on the race director's starting list, we will not be able to score you. This automatically results in a 'DNR' for the MOTO in question. Those who fail to comply, will receive a fine of EUR 100.
Thank you and hope to see you all in Poland!
Dziękuję i mam nadzieję, że do zobaczenia w Polsce!